Avalokiteshvara (Chenrezig)/ Sadakshari Lokesvara
Best.-Nr.: KH 7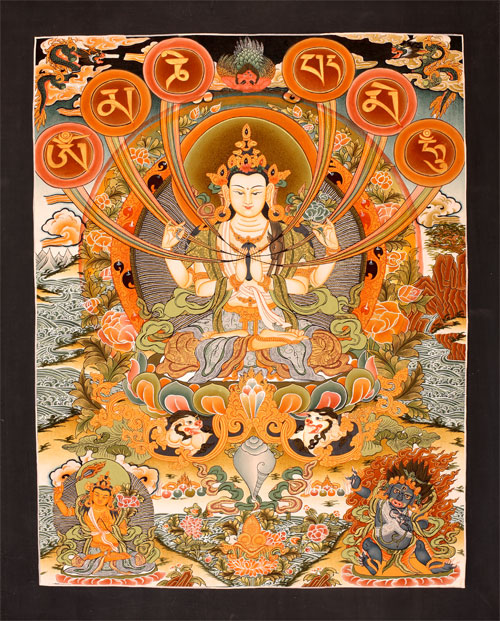 Sadakshari Lokesvara
Format / size: 53 x 42 cm / 20,8" x 16,5"
gemalt mit Gold / Painted with gold
Malqualität ist sehr gut / artistic quality is excellent
Gesamtpreis / total price: 385,- Euro
incl. MwSt. / incl. taxes plus
Versandkostenfrei innerhalb Deutschlands / no shipping costs within Germany!
Innerhalb Deutschlands ist Ratenzahlung möglich!
Chenrezig (Avalokiteshvara)
, hier in der 4-armigen Manifestation als
Sadakshari
Lokeshvara, ist in dieser Form "Träger" des Mantra OM MA NI PAD ME HUM, welches auf diesem Thangka auch in tibetischer Schrift über ihm geschrieben ist. Der Gott des Mitgefühl und der Barmherzigkeit wird mit jeder Drehung der Gebetsmühle, mit jeder Perle der Gebetskette mit diesem Mantra angerufen
Dieser Thangka ist bereits geweiht vom Abt eines tibetischen Klosters!
---
Avalokiteshvara (Chenrezig)

is shown here in his four-armed form as

Sadakshari

Lokeshvara. Avalokiteshvara, whose mantra is OM MA NI PAD ME HUM, is the Lord of Compassion and the most important deity in Tibetan Buddhism.

This thangka is consecrated already by the Abbot of a Tibetan monastery!