Avalokiteshvara (Chenrezig)/ Sadakshari Lokesvara
Best.-Nr.: EH 10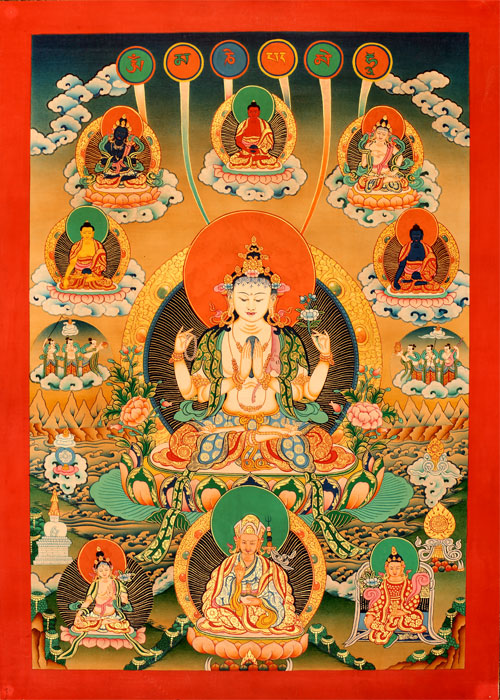 Avalokiteshvara (Chenrezig)
Ansichten / Views:
Detail 1
&
Detail 2
&
Detail 3
Format / size: 58 x 41 cm / 22,8" x 16,1"
gemalt mit Gold / Painted with gold
Malqualität ist sehr gut / artistic quality is excellent, magnificent
Gesamtpreis / total price: 598,- Euro
incl. MwSt. / incl. taxes plus
Versandkostenfrei innerhalb Deutschlands / no shipping costs within Germany!
Innerhalb Deutschlands ist Ratenzahlung möglich!
Sadakshari
-Lokeshvara ist die 4-armige Manifestation des Gottes der Barmherzigkeit,
Avalokiteshvara
(tib.:
Chenrezig
). Sein Mantra ist das berühmte OM MA NI PAD ME HUM, das hier oben über der Verkörperung der Barmherzigkeit in Tibetisch zu lesen ist. Jeder Dalai Lama gilt als Inkarnation dieser Form des Avalokiteshvara.
Dieser Thangka ist bereits geweiht vom Abt eines tibetischen Klosters!
---
This thangka depicts the 4-armed

Avalokiteshvara (Chenrezig)

, the Bodhisattva of love and compassion, in the centre. The mantra of

Sadakshari

Lokeshvara is the famous OM MA NI PAD ME HUM.

This thangka is consecrated already by the Abbot of a Tibetan monastery!