Chenrezig / Avalokiteshvara / Sahasrabhuja Lokeshvara
Best.-Nr.: AF 12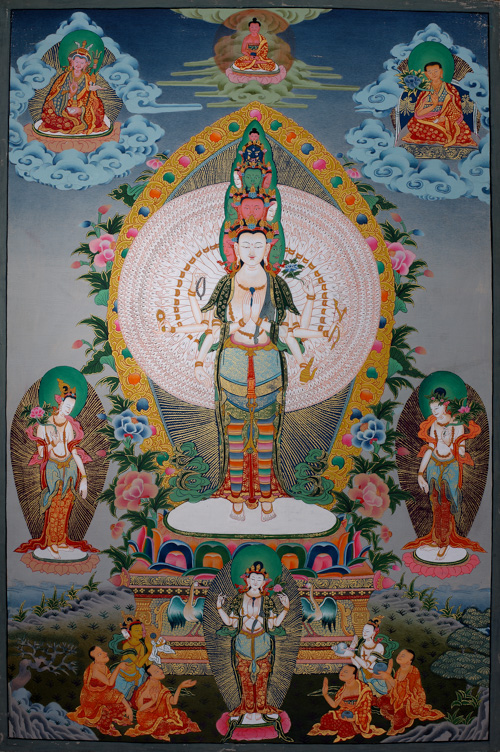 Thangka Avalokiteshvara, Chenrezig, Sahasrabhuja Lokeshvara
Ansichten / Views:
Detail 1
&
Detail 2
&
Detail 3
Format / size 50 x 77 cm / 19,7" x 30,3"
gemalt mit Gold / painted with gold
Malqualität ist sehr gut / artistic quality is excellent
Wegen leichter Farbschäden im Bild ganz oben rechts gilt ein Sonderpreis / because of slightly color damages up right spezial price offer.
Gesamtpreis / total price: 335,- Euro
incl. MwSt. / incl. taxes plus
Versandkostenfrei innerhalb Deutschlands / no shipping costs within Germany!
Innerhalb Deutschlands ist Ratenzahlung möglich!
Ein sehr schön gemalter Thangka der 1000-armigen Manifestation des Chenrezig (Avalokiteshvara): Sahasrabhuja Lokeshvara. Wegen geringer Farbschäden oben rechts auf dem Thangka gilt ein Sonderpreis. Etwas älterer Thangka (ca. 30 - 35 J.).
Dieser Thangka ist bereits geweiht vom Abt eines tibetischen Klosters!
---
A very nicely painted Thangka of the 1000-Arm manifestation of the Bodhisattva Chenrezig (Avalokiteshvara): Sahasrabhuja Lokeshvara. A little older thangka (approx. 30 - 35 Y.). Because of slightly colour damages top right of the Thangka we offer a special price.

This thangka is consecrated already by the Abbot of a Tibetan monastery!