Sadakshari Lokeshvara - Buddhistische Thanka von Schneelöwe - Buddhist Thanka by Snow Lion











Chenrezig / Avalokiteshvara (4 Arms) / vierarmige Manifestation / Sadakshari Lokeshvara
Best.-Nr.: CL 14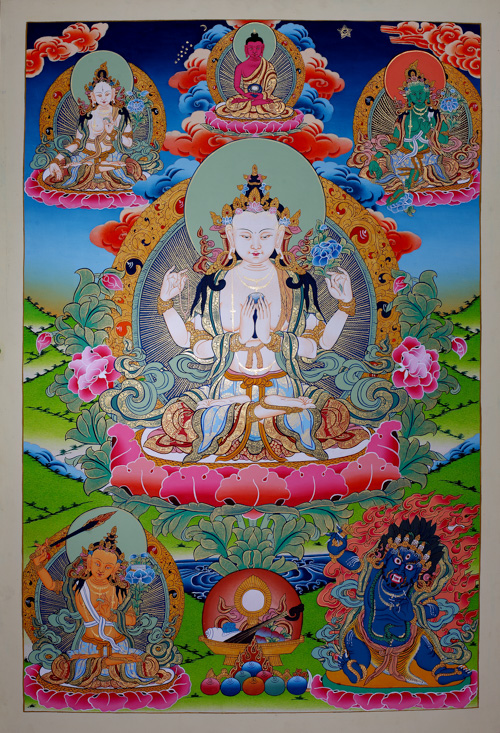 Thangka of Chenrezig (4 Arms), Avalokiteshvara / 4-armige Manifestation
Ansichten / Views:
Detail 1
&
Detail 2
&
Detail 3
Format / size 57 x 82 cm / 22,4" x 32,3"
gemalt mit viel Gold / painted with plenty of gold
Malqualität ist sehr gut / artistic quality is excellent
Big size / Großformat.
Gesamtpreis / total price: 445,- Euro
incl. MwSt. / incl. taxes plus
Versandkostenfrei innerhalb Deutschlands / no shipping costs within Germany!
Innerhalb Deutschlands ist Ratenzahlung möglich!
Dieser überwältigend schöne Thangka zeigt den Bodhisattva Chenrezig in seiner vierarmigen Form als Sadakshari Lokeshvara. Die Klarheit und anmutige Farbkomposition des Avalokiteshvara Thangkas kann jeden begeistern. Über und unter Chenrezig sind noch weitere wesentliche Bodhisattvas sowie Buddha Amitabha auf dem Thangka abgebildet. Thangkamalerei unter Verwendung vielen echten Goldes, das bei richtigem Lichteinfall die Brillanz des Thangkas noch betont.
Dieser Thangka ist bereits geweiht vom Abt eines tibetischen Klosters!
---
This overwhelmingly beautiful thangka shows the Bodhisattva Chenrezig, Buddha of compassion. On the thangka Avalokiteshvara appears in his 4 arms form (Sadakshari Lokeshvara). The clarity and graceful color composition of the Chenrezig thangka thrilled. Above and below of Sadakshari will be shown on the thangka further essential Bodhisattvas.

This thangka is consecrated already by the Abbot of a Tibetan monastery!
Anfrage Request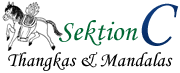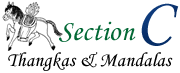 DE: Thangka EN: Thangka



Einführung

Wir über uns

Informationen




Impressum

AGB

Haftungs- ausschluss





Introduction

About Me

Information




Legal Notice

General Trading Conditions

Disclaimer