Avalokiteshvara, Chenrezig, Sadakshari Lokeshvara
Best.-Nr.: CC 3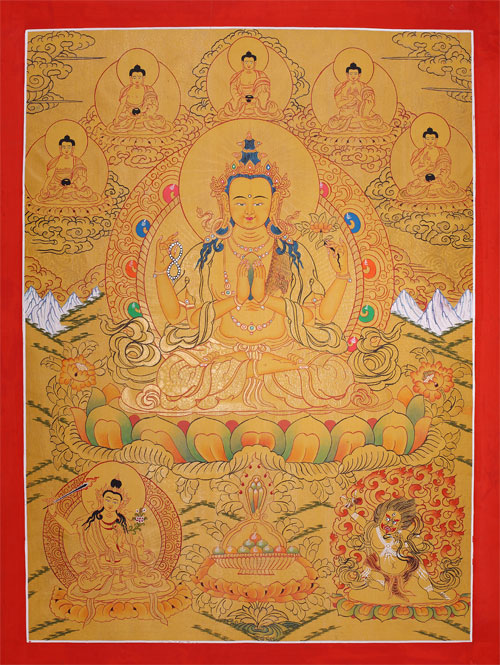 Sadakshari
Format / size 62 x 46 cm / 24,4" x 18,1"
gemalt mit Gold / painted with gold
Malqualität ist sehr gut / artistic quality is excellent
Auf Goldgrund gemalt / painted on gold background
Gesamtpreis / total price: 675,- Euro
incl. MwSt. / incl. taxes plus
Versandkostenfrei innerhalb Deutschlands / no shipping costs within Germany!
Innerhalb Deutschlands ist Ratenzahlung möglich!
Dieser Thangka des Bodhisattva Chenrezig wurde sorgsam auf Goldgrund gemalt. Avalokiteshvara erscheint hier in seiner 4-armigen Manifestation als Sadakshari Lokeshvara. Über ihm sind die 5 Meditationsbuddhas (Dhyani-Buddhas, Tathagatas) zu erkennen. Unten zeigt sich der Weisheitsgott Manjushri und der Dharmapala Vajrapani.
Dieser Thangka ist bereits geweiht vom Abt eines tibetischen Klosters!
---
This Thangka of the Bodhisattva Chenrezig was carefully painted on golden background. Here Avalokiteshvara appears in his 4-arms manifestation as Sadakshari Lokeshvara. On top the five Meditation-Buddhas (Dhyani Buddhas, Tathagatas) are visible. Below appears Manjushri, God of wisdom and the Dharmapala Vajrapani.

This thangka is consecrated already by the Abbot of a Tibetan monastery!