4-arms Chenrezig / Avalokiteshvara / Sadakshari
Best.-Nr.: CK 14
Bild: Chenrezig-CK14.jpg
Thangka of Chenrezig 4 Arms, vierarmiger Chenrezig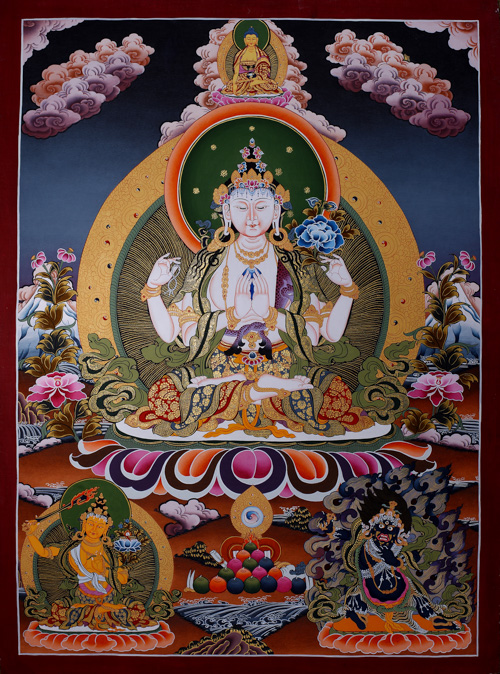 Ansichten / Views:
Detail 1
&
Detail 2
Format / size 50 x 68 cm / 19,7" x 26,7"
gemalt mit Gold / painted with gold
Malqualität ist sehr gut / artistic quality is excellent
Gesamtpreis / total price: 298,- Euro
incl. MwSt. / incl. taxes plus
Versandkostenfrei innerhalb Deutschlands / no shipping costs within Germany!
Innerhalb Deutschlands ist Ratenzahlung möglich!
Ein klar und schön gemalter Thangka des Chenrezig, des Buddha-Aspekts der Barmherzigkeit. Auf diesem Thangka erscheint Avalokiteshvara in seiner 4-armigen Manifestation als Sadakshari Lokeshvara. Der Thangka ist wegen seiner Klarheit und Reinheit hervorragend zur Meditation geeignet, Thangkamalerei unter Verwendung echten Goldes
---
Very nicely painted thangka of Chenrezig (Avalokiteshvara), the Buddha aspect of compassion. In this thangka-motif he is shown in his 4 arms manifestation as Sadakshari Lokeshvara. Thangka-painting using real gold. The thangka is ideal for meditation because of its clarity and purity!