Avalokiteshvara / Chenrezig / Sadakshari Lokeshvara
Best.-Nr.: CD 6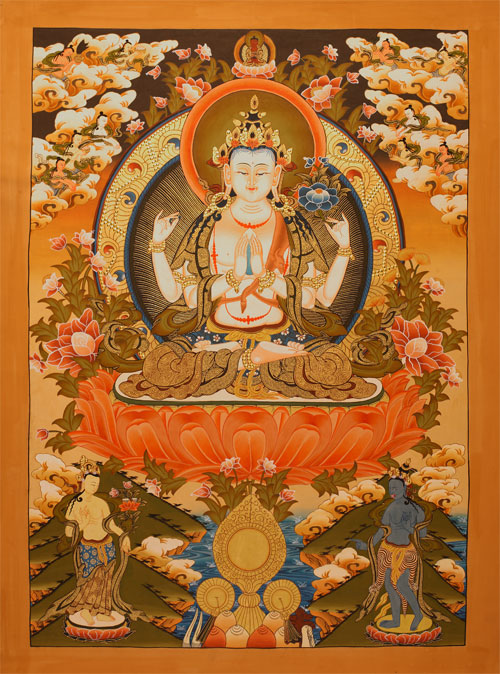 Sadakshari Lokeshvara
Ansichten / Views:
Detail
Format / size 52 x 71 cm / 20,5" x 27,9"
gemalt mit Gold / painted with gold
Malqualität ist sehr gut / artistic quality is excellent
Im Goldtropfen-Malstil / painting with gold drops
Gesamtpreis / total price: 685,- Euro
incl. MwSt. / incl. taxes plus
Versandkostenfrei innerhalb Deutschlands / no shipping costs within Germany!
Innerhalb Deutschlands ist Ratenzahlung möglich!
Ein bildschöner Thangka des Buddha-Aspekts der Barmherzigkeit, des Bodhisattvas Avalokiteshvara (Chenrezig), hier in seiner 4-armigen Form als Sadakshari Lokeshvara. Hier wurde vom Maler eine längst vergessen geglaubte alte Maltechnik neu belebt, die sogen. Goldtropfen-Maltechnik. Siehe auch die Detailausschnitte
Dieser Thangka ist bereits geweiht vom Abt eines tibetischen Klosters!
---
A breathtakingly beautiful thangka of the Buddha of compassion, the Bodhisattva Avalokiteshvara (Chenrezig), here in his four-armed form as Sadakshari Lokeshvara. Avalokiteshvara is painted here in a "forgotten" gold drop painting style. See also detail photo.

This thangka is consecrated already by the Abbot of a Tibetan monastery!