Buddhist Statues

/ Bronzes


Buddhist statues stemming from the over 1000 year-old artistic tradition of Tibetan Buddhist bronzes, created by the Newar people of Nepal. The statues are produced exclusively by hand using the complex "lost wax" technique, often taking months to complete. Thus, each statue represents a unique, valuable piece of art! For this reason, the measurements and weights given below the pictures are to be considered as reference values only, which, even for figurines of the same deity, vary slightly from piece to piece. Likewise, the engravings vary from statue to statue, for these, too, are executed individually by hand. Hence, the photos can serve only as examples.

All large statues are either fire gilded, or (the faces) are painted by hand with a mixture of gold and paste and silver-plated. The base of each Buddhist bronze is sealed shut by means of a copperplate stamped with the Vishvavajra, the diamond sceptre cross. Please click on the preview pictures to view the statues in full size and for further information.

Avalokiteshvara Statues 1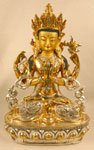 Avalokiteshvara (Chenrezig)
Buddha Statues 2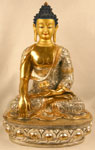 Buddha Shakyamuni
Tara Statues 3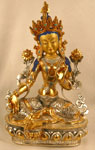 Green Tara
Tara Statues 4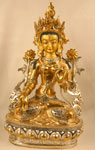 White Tara
Buddha Statues 5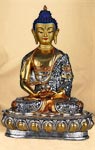 Buddha Amitabha (Opame)
Buddha Statues 6

Buddha Amitayus (Tsepame)
Manjusri Statues 7

Manjusri
Medicine Buddha Statues 8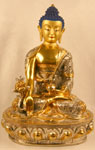 Medizinbuddha Bhaisayjaguru
Vajrasattva Statues 9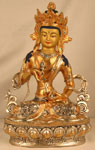 Vajrasattva (Dorje Sempa)
Padmasambhava Statues 12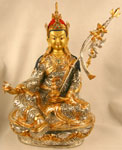 Padmasambhava (Guru Rinpoche)
---
---
Below find genuine bronze statues which have undergone antique bronzing. They were also produced using the "lost wax" technique. Because bronze is a very hard metal, the final finish is occasionally not completely smooth and flawless, lending each statue a certain added individuality and attractiveness.
Manjusri Statues 070-201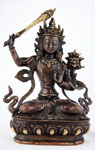 Manjusri
Tara Statues 070-202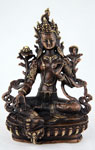 Green Tara
Tara Statues 070-203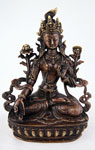 White Tara
Vajrasattva Statues 070-204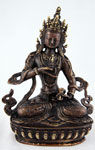 Vajrasattva
Chenrezig Statues 070-205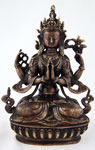 Avalokiteshvara (Chenrezig)
Amitayus Statues 070-206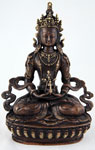 Amitayus
Buddha Statues 070-207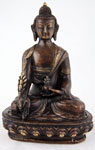 Medicine Buddha
Saraswati Statues 070-213


Saraswati Statues
Buddha Ratnasambhava 070-210


Buddha Ratnasambhava
Shakyamuni Statues 070-211


Buddha Shakyamuni
Amoghasiddhi 070-212


Buddha Amoghasiddhi
For statues shipped outside of Germany, gross price = net price.
Your
Snowlion
-Team