Heruka Hayagriva Thangka on Black - Hayagriva Schwarzgrund-Thangka
Best.-Nr.: BV 6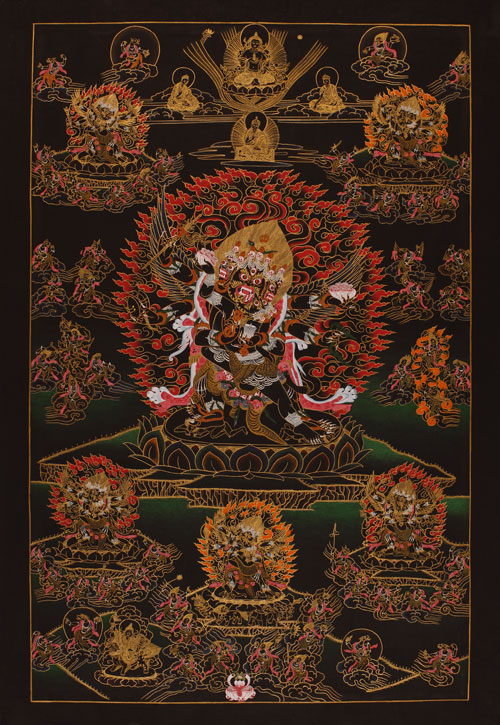 Heruka
Detail 1
&
Detail 2
&
Detail 3
Format / size 62 x 43 cm / 24,4" x 16,9"
Malerei mit echtem Gold / painted with the use of real gold
Schwarzgrundthangka / black background thangka
Malqualitat ist sehr gut / artistic quality is excellent
Gesamtpreis / total price: 798,- Euro
incl. MwSt. / incl. taxes plus
Versandkostenfrei innerhalb Deutschlands / no shipping costs within Germany!
Innerhalb Deutschlands ist Ratenzahlung möglich!
Auf diesem faszinierend und sehr eindrucksvoll gemalten Schwarzgrund-Thangka ist eine Heruka Erscheinung abgebildet. Es manifestiert hier der Yidam Vajra Heruka, der der zornvolle Aspekt des Vajrasattva (Dorje Sempa) ist. Auf dem Thangka ist er verbunden mit seiner Prajna (Yogini) Vajra Krodeshvari.
Dieser Thangka ist bereits geweiht vom Abt eines tibetischen Klosters!
---
On this enchanting and finest on black background painted thangka appears a form of Heruka. Here Heruka is shown as the Vajra-Heruka, in YabYum with his consort Vajra Krodeshvari. The Vajra-Heruka is the wrathful aspect of Buddha Vajrasattva (Dorje Sempa)

This thangka is consecrated already by the Abbot of a Tibetan monastery!