Chenrezig - Buddhistische Thankas von Schneelöwe - Buddhist Thankas by Snow Lion













Thanka BR6: Chenrezig, viele and. Buddha-Aspekte /
Chenrezig (Avalokiteshvara) and other Buddha aspects
Best.-Nr.: BR 6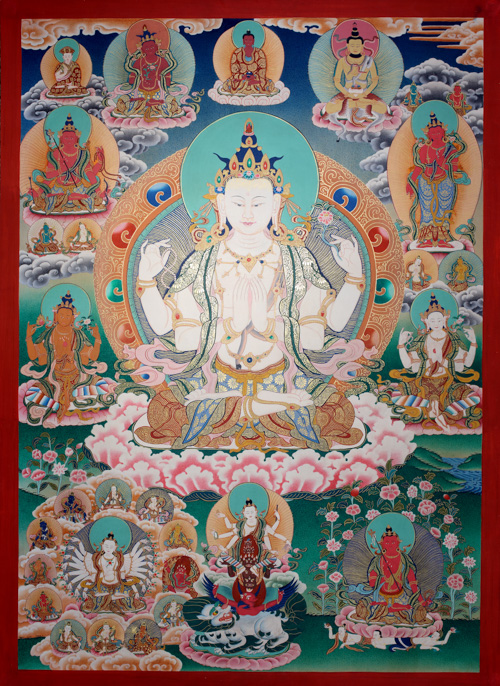 Chenrezig Avalokiteshvara Thanka Sadakshari Lokeshvara
Ansichten / Views:
Detail 1
&
Detail 2
&
Detail 3
Format/size 47 x 65 cm / 18,5" x 25,6"
gemalt mit Gold / painted with gold
Malqualität ist sehr gut / artistic quality is excellent
Gesamtpreis / total price: 498,- Euro
incl. MwSt. / incl. taxes plus
Versandkostenfrei innerhalb Deutschlands / no shipping costs within Germany!
Innerhalb Deutschlands ist Ratenzahlung möglich!
Ein sehr vielfältig gemalter Thangka des Chenrezig. Avalokiteshvara (Sadakshari Lokeshvara) erscheint mit vielen weiteren Buddha-Aspekten. Ausgezeichnete Thangka-Malqualität. Thangka-Malerei unter Verwendung von Gold. Ein Qualitätsthangka von Schneelöwe. Weitere Chenrezig/Avalokiteshvara -Thangkas finden Sie auch in den anderen Thangka Sektionen!
---
A very diverse painted Thanka of Chenrezig. Avalokiteshvara (Sadakshari Lokeshvara) appears with many other Buddha aspects. Excellent Thangka painting quality. Thangka with the use of real gold. A quality Thangka of the Snow-Lion gallery. You will also find Chenrezig/Avalokiteshvara Thangkas in our other Thangka sections!
Anfrage Request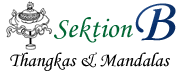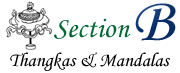 DE Thankas EN Thankas



Einführung

Wir über uns

Informationen

Brokatrahmen

Impressum

AGB





Disclaimer

Terms