Mandala of 8 arms Chenrezig / Avalokiteshvara / Ekadasa Mahakarunika
Best.-Nr.: 3-27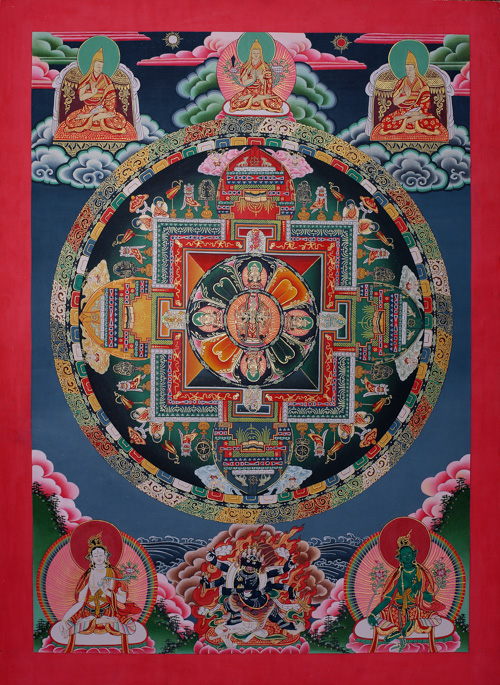 Mandala of / des Chenrezig
Ansichten / Views:
Detail 1
&
Detail 2
&
Detail 3
Format / size 46 x 62 cm / 18,1" x 24,4"
gemalt mit Gold / painted with gold
Malqualität ist sehr gut / artistic quality is excellent
Gesamtpreis / total price: 625,- Euro
incl. MwSt. / incl. taxes plus
Versandkostenfrei innerhalb Deutschlands / no shipping costs within Germany!
Innerhalb Deutschlands ist Ratenzahlung möglich!
Dieses wunderschöne Chenrezig Mandala-Thangka wurde nach antiker Vorgabe gemalt. Neben Avalokiteshvara in der 8 armigen Manifestation als Ekadasa Mahakarunika Lokeshvara im Zentrum des Mandalas erscheinen noch Dalai Lamas und 3 weitere Bodhisattvas auf dem Thangka. Thangkamalerei mit Gold.
---
This beautiful Chenrezig mandala-thangka was painted from an ancient motif. In the centre of the Mandala Avalokiteshvara appears in his 8-arms manifestation as Ekadasa Mahakarunika Lokeshvara. Moreover Dalai Lamas and 3 other essential Bodhisattvas are to be seen on the thangka. Thangka-painting with gold.