Dhyani Buddha Vairocana
Best.-Nr.: CS 5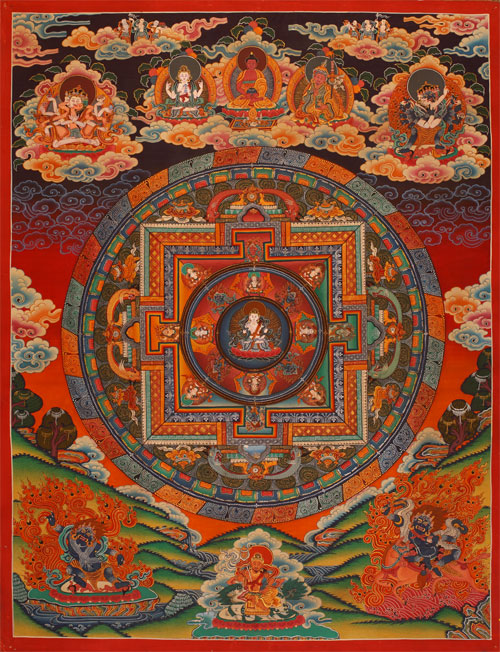 Vairocana
Ansichten / Views:
Detail 1
&
Detail 2
Format / size: 69 x 52 cm / 27,1" x 20,4"
gemalt mit Gold / Painted with gold
Malqualität ist sehr gut / artistic quality is excellent
Gesamtpreis / total price: 575,- Euro
incl. MwSt. / incl. taxes plus
Versandkostenfrei innerhalb Deutschlands / no shipping costs within Germany!
Innerhalb Deutschlands ist Ratenzahlung möglich!
Thangka-Mandala des Dhyani Buddhas Vairocana, der gelegentlich auch als einer der Urbuddhas angesehen wird. Er gilt als Personifikation des Dharmakaya unf verkörpert Allwissenheit und Allgegenwart. Ein Mandala, welches in ungewöhnlich warmen Farben gemalt wurde. Thangka-Malerei mit Gold.
---
Mandala thangka of the Dhyani Buddha Vairocana. Sometimes Vairocana is also called the Supreme Buddha. An extraordinary aesthetically painted Mandala. Thangka painting with gold.