Lineage A - Buddhistische Thanka von Schneelöwe - Buddhist Thanka by Snow Lion













Thangka CH1A: Guru Rinpoche Refuge- Lineage Tree /
Linienbaum (Refuge Tree) des Padmasambhava
Best.-Nr.: CH 1A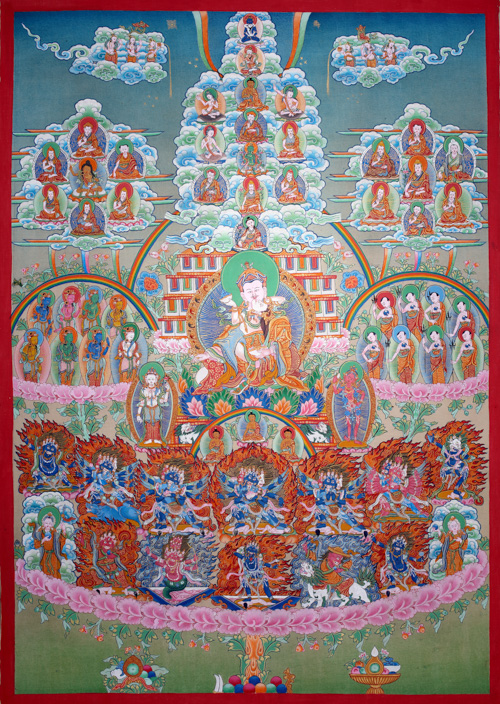 Guru Rinpoche (Lineage) Refuge Tree Thangka
Ansichten / Views:
Detail 1
&
Detail 2
&
Detail 3
Format/size 48 x 68 cm / 18,9" x 26,8"
gemalt mit Gold / painted with gold
Malqualität ist sehr gut / artistic quality is excellent
Gesamtpreis / total price: 935,- Euro
incl. MwSt. / incl. taxes plus
Versandkostenfrei innerhalb Deutschlands / no shipping costs within Germany!
Innerhalb Deutschlands ist Ratenzahlung möglich!
Dieser Thangka des Refuge- bzw. Lineage Baums des Padmasambhava (Guru Rinpoche) wurde in seinen Details sehr sorgfältig gemalt. Es beeindruckt auf dem Thangka besonders die sehr gute Qualität der Malkunst. Bild Nr CH1A ist fast gleich dem vorhergehenden Thangka Nr CH1, lediglich geringfügig größer und farblich etwas heller. Thangka mit Gold. Qualitätsthangka von Schneelöwe.
Dieser Thangka ist bereits geweiht vom Abt eines tibetischen Klosters!
---
This Refuge (Lineage) Tree thangka of Guru Rinpoche is painted very fine and impressive. This thangka is nearly same than the one before No. CH1, just a little bit bigger. Thangka with gold. A quality Thangka of the Snow-Lion gallery.

This thangka is consecrated already by the Abbot of a Tibetan monastery!
Anfrage Request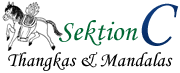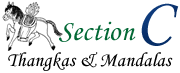 DE: Thangka EN: Thangka



Einführung

Wir über uns

Informationen




Impressum

AGB

Haftungs- ausschluss





Introduction

About Me

Information




Legal Notice

General Trading Conditions

Disclaimer