Avalokiteshvara Sarasvati - Wunderschöne Thangkas von Schneelöwe - Beautiful Thangkas by Snow Lion










Avalokiteshvara in Sarasvati
Best.-Nr.: WH 17
Sarasvati
Format / size: 48 x 41 cm / 18,9" x 16,1"
gemalt mit Gold / Painted with gold
Malqualität ist sehr gut / artistic quality is excellent
Gesamtpreis / total price: 365,- Euro
incl. MwSt. / incl. taxes plus
Versandkostenfrei innerhalb Deutschlands / no shipping costs within Germany!
Innerhalb Deutschlands ist Ratenzahlung möglich!
Eine der vielen Manifestationen des Bodhisattva ist die sehr seltene Übernahme der Hindugöttin
Sarasvati
. Normalerweise wird Sarasvati dem Bodhisattva Manjusri beigeordnet. Dass es sich hier aber um Avalokiteshvara handelt, ist auf dem Thangka an der Mala in der rechten Hand von Sarasvati erkenntlich.
---
One of the many manifestations of the Bodhisattva is his manifestation as

Sarasvati

. Usually Sarasvati is partner of Manjusri, but here on this Thangka it is a form of the Bodhisattva Chenrezig, because he is having a mala in his right hand. This seems to be a very rare form of the Lord of Compassion.
Anfrage Request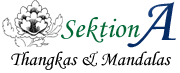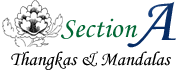 DE Thangkas EN Thangkas



Einführung

Wir über uns

Informationen




Impressum

AGB

Haftungs- ausschluss





Introduction

About Me

Information




Legal Notice

General Trading Conditions

Disclaimer