Hayagriva - Buddhistische Thanka von Schneelöwe - Buddhist Thanka by Snow Lion












Dharmapala Atisa Hayagriva, Tamgrin
Best.-Nr.: CH 11
Thangka of Hayagriva
Format / size: 65 x 49 cm / 26" x 19"
Mit Gold / with Gold
Malqualität: sehr gut / artistic quality: excellent, magnificent
Gesamtpreis / total price: 895,- Euro
incl. MwSt. / incl. taxes plus
Versandkostenfrei innerhalb Deutschlands / no shipping costs within Germany!
Innerhalb Deutschlands ist Ratenzahlung möglich!
Der Dharmapala Hayagriva (Tamgrin) manifestiert auf diesem Thangka in einer wunderschönen Darstellung. Die hier gezeigte seltene Form als Atisa Hayagriva wird umgeben von vielen weiteren Buddha-Aspekten. Bei der Thangka-Malerei wurde sehr viel echtes Gold verwendet, was dem Dharmapala einen fast überirdischen Glanz verleiht.
Dieser Thangka ist bereits geweiht vom Abt eines tibetischen Klosters!
---
On this thangka appears a rare manifestation of the Dharmapala Hayagriva (Tamgrin, Atisa Hayagriva). An enchanting thangka painting with the use of much real gold.

This thangka is consecrated already by the Abbot of a Tibetan monastery!
Anfrage Request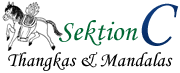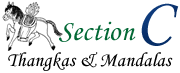 DE: Thangka EN: Thangka



Einführung

Wir über uns

Informationen




Impressum

AGB

Haftungs- ausschluss





Introduction

About Me

Information




Legal Notice

General Trading Conditions

Disclaimer