White Mahakala - Thangkas and Mandalas from Snow Lion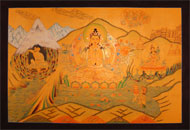 White Mahakala (Shad Bhuja Sita, Gonpo Nagpo)
Order-Nr.: GR 13
White Mahakala
Views:
Detail 1
&
Detail 2
&
Detail 3
Size 90 x 62 cm / 35,4" x 24,4"
painted on gold background
artistic quality is excellent
Big size.
Total price: 1.100,- Euro
incl. taxes plus
An unusually magnificent White Mahakala thangka. Very fine and delicate and illustrated on real gold background. Shad Bhuja Sita also serves for the prosperity and wealth. Mahakala is depicted very impressive on this thangka
This thangka was consecrated already by a monk of a Tibetan Monastery!
Request & Contact


Back to the: Dream-Thangkas



Introduction

About Me

Brocade Frame

Disclaimer

Shipping costs

General Trading Conditions